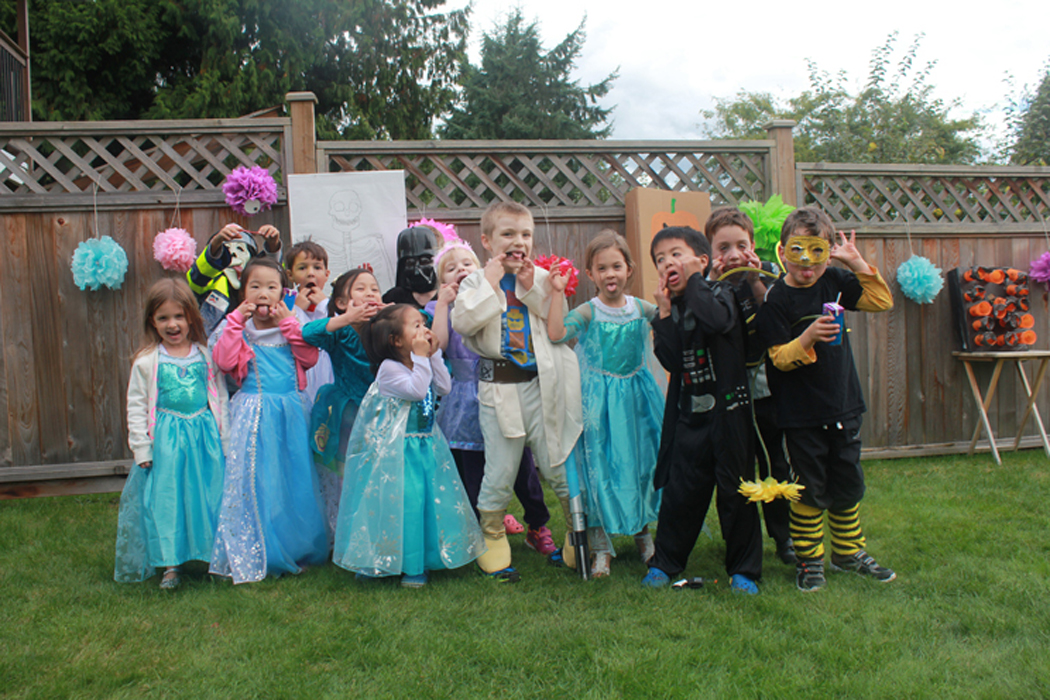 A week ago we threw a Halloween birthday party for Ethan and Maya. All along we called it a kids party because one, it's A KIDS PARTY, their very first KIDS BIRTHDAY PARTY! Two, we have another 400 parties to celebrate their birthday. Each one deserves a name for easy recognition.
We invited their friends from school, the usual cast of kids who are in and out of our house, and also our neighbours' kids. Speaking of our neighbours, I will have to say that we wouldn't get to know them if not for Ethan and Maya, especially for those who live 20 houses away. Sometimes we wonder how amazing it is that other kids know Ethan and Maya in the neighborhood, but nobody else! Like the whole neighbourhood is fully aware of our two kids who bike and scooter to their houses asking for a playdate, and they love it! But they still have a hard time remembering the names of the kids living next to them! If kids had to carry around a resume, my kids' ones would mostly include "have successfully befriended the 400 families living miles away that no one even cares to do."
October in Vancouver is notoriously cold and wet. This year we were lucky to have a warm Sunday afternoon that we could move the party to our backyard. We set out finger food, sweet treats, games, props, decoration, cake and of course PIÑATA – our main event.
Like last time, I made one from scratch. And in order to have it in good shape for keepsake, I refrained from the idea of whacking the piñata, but worked out a mechanism to pull the opening underneath it so the candies would fall out. To make sure it would work as planned, we had it tested by Matt. He spent one whole afternoon tying and taping the piñata, filling it up with candies in different weights and pulling it at different heights. And of course yelling in different decibel levels. Let's just say that this is Matt's interpretation of a minor computer-cleaning. I asked him to make sure the piñata would work and HE WAS GOING TO MAKE SURE IT WOULD WORK. Just like a normal geeky MBA holder would do!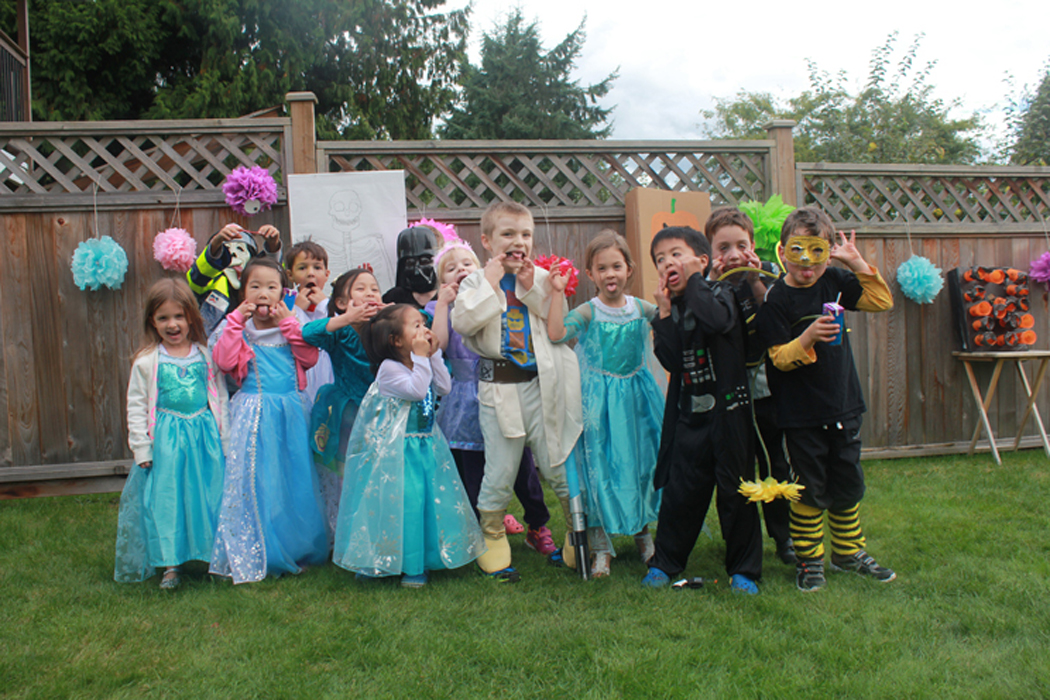 Now if you wonder how we made these group pictures possible, we dangled the piñata and threatened to kill it and bury all the candies.
Now tell me how many Elsas do you see? Hundreds! Each one you see here contains at least 100 in their heart.
I let you all indulge in a few pieces of candy, but not too many because the main course was up next.
First time the kids saw the cake, their eyeballs plopped out of their skulls. In fact Ethan and Maya had seen everything before the party, you know, the approval! So when they saw all the cake pops and cupcakes that I made for the party, they were like, "IMAGINE NOT HAVING TO EAT DINNER! IMAGINE NOT HAVING TO EAT DINNER!" Yep! That's right. Dessert that does not require eating anything containing nutritional value beforehand. I didn't have the heart to tell them that when they are old enough to be in charge of their own meals, they will have the opportunity to do this EVERY SINGLE DAY.
And you know I normally dress up as "that woman who blogs" for Halloween. This year I decided to change a little bit.
Same as Matt who decided to dress up as an auto worker named Mike who loves to chase kids around with a knight mask.
Turned out Ethan and Maya thought this was the best three hours of their lives. And even though we threw this party not as a prize for hard work or as a celebration of some breakthrough, it was just as meaningful to witness their reaction, to watch childhood play out in front of us, to hold their innocence in our hands for a couple of hours and relish in how it made us all feel a little less jaded and preoccupied with useless noise.